Membership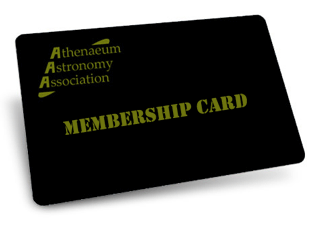 AAA membership lasts for 12 months and includes:
attendance at fortnightly meetings for observing sessions, talks and lectures
access to Talk Space, our private online discussion forum
fortnightly access to our Nowton Park dark-sky site, weather permitting.
How do I join?
To join The AAA please email a completed membership application form to secretary@3a.org.uk, indicating your preferred method of payment. We currently accept payment by cheque, or through our secure payment facility. Please refer to our pro rata schedule before making any payment.
Not sure?
If you're not sure whether you want to commit to a year's membership, you are welcome to come along to your first two meetings at no cost while you make up your mind.
Membership categories
CATEGORY
ANNUAL FEE
PRO RATA COST
Adults (over 18s)
£25
Children (under 18s)
Free
Couples
£40
Full-time students
£15
'Friends'
£15
The membership year runs from the week of the Winter Solstice (21 December), with fees chargeable according to our pro rata schedule. If you are unsure which fees apply, please contact us before making any payment.
In accordance with our Child Protection Policy, which adopts the FAS Child Protection Guidelines, any under-16s attending AAA meetings or events must be accompanied by an adult member. 16-18 year-olds wishing to attend meetings unaccompanied, must provide a permission statement signed by their parent or guardian.
A couple must be resident at the same address.
A 'Friend' of the AAA is someone who is interested in supporting the Association's observatory restoration project, but is not involved in practical astronomy with the group. Friends are, however, entitled to attend two astronomy meetings per year at no additional charge. Friends will be asked whether they wish their membership fee to go towards the support of the restoration project, or to be allocated at the discretion of the AAA's management committee.